Los Angelitos Orphanage is a children's home that provides underprivileged children the opportunity to experience secure living conditions, nurtured upbringing, schooling, and a pleasant family life. All are either orphans or abandoned children that would otherwise be living on the streets of Tijuana.
Read the stories that bring to light the good that people like yourself do.
The Story Of Karina
Thirteen-year-old Karina lived with her single mother in Tijuana. Her mom was a drug addict .... >>
The Story Of Maria And Luis
Tijuana born Maria and her brother, Luis, were brought to Los Angelitos following a severe beating .... >>
Why Help Los Angelitos?
See what makes us so valuable to the Tijuana border area children. .... >>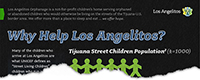 Spread The Word!
Forward this link "Los Angelitos — Spread The Love" to your friends, family, and co-workers. Spread the love by spreading the word.